About me and the equipment I am using
I am very fortunate to live in the very beautiful county of Herefordshire, bordering the Forest of Dean and the Welsh Mountains which afford me wonderful landscapes to photograph throughout the seasons. I also have a passion for North America which I share with my wife and take the opportunity to travel there as often as we are able, especially the winter months.
Photography has been a hobby of mine for many years now but it was the digital revolution that really fired up my interest. I purchased my first digital bridge camera (a Fuji Finepix) back in 2002 but I returned to SLR's a few years later with a Nikon D80. Now I have returned full circle and reverted back to my original 35mm roots and use a full frame D600(now replaced by D810) I find that digital cameras and their software give me the freedom to capture the moment and enable me to complete the photographic process in my home environment, something a few years ago I would never have thought possible.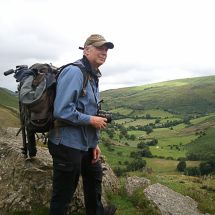 Equipment
D810 -
Nikon F4 24-120mm
Nikon F1.8 20mm
Nikon 70-300MM
Tenba Messenger Bag large
Lowepro Trekker 300AW
Giotto Tripod-Manfrotto Monopod-
Lee Filters system
Photoshop CC and Nik software